These long days of self-confinement have provided us opportunities to find new ways to bolster our spirits. One way I found has been in reaching out to old friends. One old friend of mine who's brought a little light into my darkness has been Mark Pearson, a fraternity brother from my time at the University of Washington.
Mark was a man who kept his own conscience and encouraged me to keep mine. Fraternities are not typically associated with the idea of social conscience. But our fraternity was different. It had a special legacy, planted in 1956, when the folk group The Brothers Four was formed from members of our chapter. Mark has been a mainstay of that group since he joined in 1969.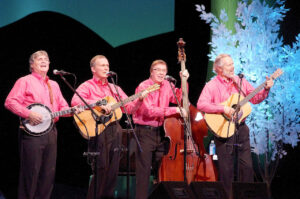 Folk music was, for my generation, a call to conscience and consciousness that was aspirational as well as inspirational. Bob Dylan said of folk music, "It was so real, so more true to life than life itself. It was life magnified." 
Mark Pearson has been, for more than fifty years, a magnifier of life, singing his way into the hearts of people from all corners of the world. I'm delighted to be a member of his Song Circle and delighted for him to be a part of our community.
Today he shares wisdom from his own life and from one of his singing partners.
Thank you, Mark.
Just a thought…
Pat
Copyright © 2020 Patrick J. Moriarty. All Rights Reserved.
Would you like to submit a post to Just A Thought?  To learn more, please click here.