What are you supposed to do when you live in frightening times?  Like many of you, I've been trying to makes sense of this upside down, inside out world of ours.  My impression is the world has lost connection to a shared fate and purpose.  Times past may have been equally crazy, but knowing that does not make it any easier to live in times present.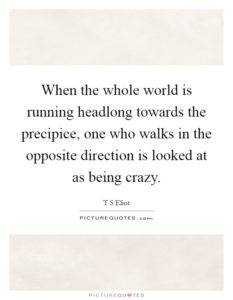 It is said that each generation must work out its own salvation.  I remember such a time in the life of my generation.  The year was 1968.  Martin Luther King and Bobby Kennedy had been assassinated, riots were breaking out in cities across America, thousands of young men were returning from Vietnam in body bags, and thousands more Vietnamese were being killed.  The times were a-changin', but to what end no one knew.  It was a defining year for my generation.  The decisions to act made by so many, mostly young people, changed the trajectory of events in the world.
My grandfather helped me set the trajectory of my own life.  It was September of my second year in college and I'd come for a visit.  Grandpa was lodged in his rocking chair drinking coffee half filled with evaporated milk, and taking long pulls from his eternally lit pipe.  I was reporting on the litany of disastrous events that had happened that year.  Grandpa listened patiently, and when I finished, he told me it sounded like the kind of year he had back in 1918 when another war was raging and a flu pandemic was killing millions.  He said the reason he left Ireland in 1910 was to escape what he saw as the curse of the Irish.  He came to America expecting it to be different, but the truth was he simply traded the burdens of one life for those of another.
Then he told me something astonishing.  He said he finally accepted that bearing burdens was not his curse, but his destiny.  He reconciled himself to the times in which he lived.  Then he repacked his pipe, pointed his finger at me, and said, "There can be no escaping the world, Paddy.  The misery of one man is the misery of us all.  We may think we live on an island, but wherever you go, the world follows."  He told me it was our shared responsibility to carry the burdens of our time.
In 1918, when Eamon de Valera, a leader in the IRA and future president of Ireland, came to Seattle to raise money, it was my grandfather who helped him.  Grandpa had his rendezvous with history.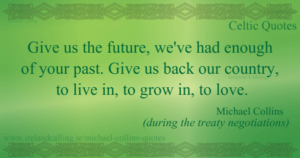 Grandpa asked me what I planned to do with my life after graduation.  I told him I wanted to go to Chicago to work in a poor community.  My visit was over, and Grandpa took me by the arm to walk me back to the car.  "That sounds like a fine plan," he said.  "Now go do it.  Sláinte."  Grandpa helped me to see that this was my destiny, and that it would be a privilege to embrace the burdens that would come with it.
Perhaps Churchill captured it best in his stirring remarks before the House of Commons on June 18, 1940.  "Let us therefore brace ourselves to our duty, and so bear ourselves that if  this British Empire and Commonwealth lasts for a thousand years, men will still say, 'This was their finest hour.'"  [Enlarge your screen to see a copy of Churchill's marked-up notes:]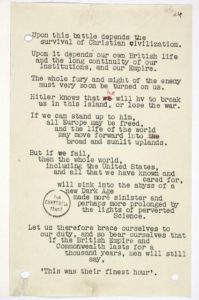 It is for this generation to decide its destiny, and like past generations, the fate of the world rides on it.  The only question is, will it be said of us, if our planet lasts a thousand years, that this was our finest hour?
Just a thought…
Pat
Copyright © 2018 Patrick J. Moriarty. All Rights Reserved.
Would you like to submit a post to Just A Thought?  To learn more, please click here.