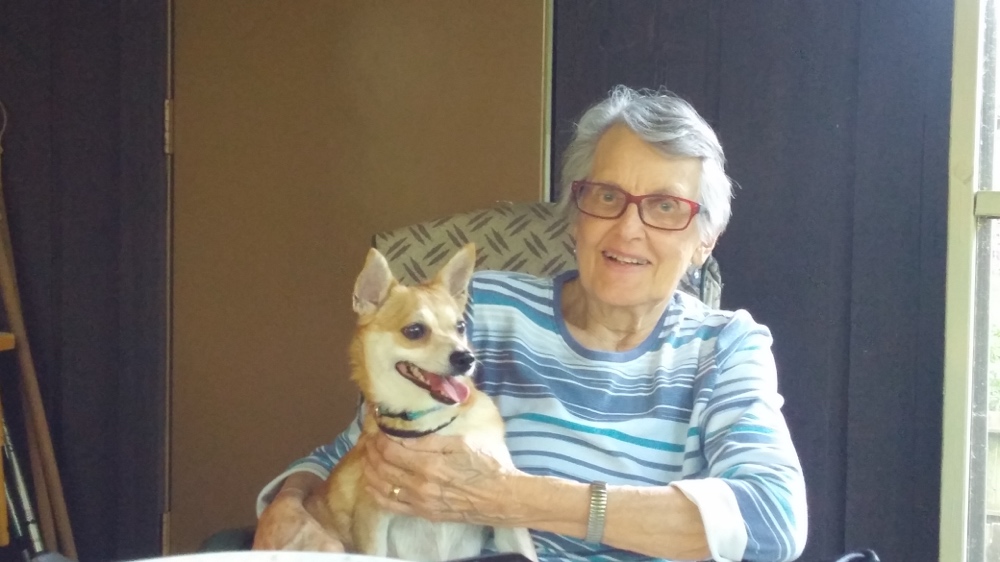 My mother-in-law is holding Jada, her lovable little mutt.  It's hard to believe, but this little dog is a descendant of ferocious wolves.  What a shocking transformation.  Just think of it.  The aggressive wolf temperament was transformed into the temperament of a sweet dog, and this evolution took place in just 35 generations.
Isn't it true that to one degree or another we think "hard wiring" is irreversible, that our dispositions are fixed?  How freeing then it is to know that behavior can be changed even if it's really old behavior.  There's solid research proving the work of Mother Nature ain't necessarily final.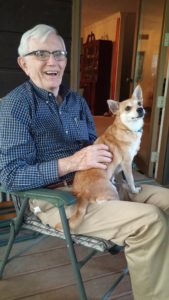 Studies conducted in Russia since 1959 on the domestication of dogs have shown how they became a subspecies of wolves through the selective breeding of less aggressive wolves with other less aggressive wolves. (The silver fox was used in these breeding studies.)
Other research suggests that wolves 15,000 years ago effected their own domestication with the encouragement of humans.  Speculation is that some wise old wolves decided it was a damn sight better to make friends with humans and get free food every day than to stay angry wolves and have to hunt for every meal.  So non-aggressive wolves got together with each other and carved out a better life for themselves.
Soon mutts like Jada became man's best friend.
Wow, I thought, how similar is that story to so many of our own stories.  Haven't we in our own ways experienced wolf/dog-like transformations?  How many of our ancient ancestors would recognize any of us?
The Moriarty clan was born and bred in the harsh, unforgiving environment of the south of Ireland.  Nothing came easy; food was scarce and life was short (41 years on average).  The margin separating life from death was thin and only the hardy survived.  As a consequence, my clansmen developed a skeptical disposition, perpetually waiting for the other shoe to drop.  An old compatriot of my grandfather once told me that the Irish soul was locked in a permanent state of twilight.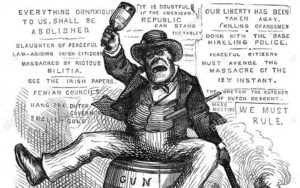 When many Irish arrived in America they were unprepared for what they found.  They'd been too subjugated, too hungry, and too poor for too long to know how to properly conduct themselves in a free society.  Thus, they had a hard time adapting to their new world.  Many resorted to the drink to relieve their misery and relied on their fists to settle their scores.
My Moriarty forebears arrived with only the faint promise America might receive them.  My Grandpa was an angry man and something had to change, and change dramatically, if he was ever to find a home in America.
How do you turn a wild wolf into a congenial mutt?  How do you change Paddy's angry, hard-wired disposition that had served the clan a thousand years in Ireland into a temperament that would allow him to make friends with America?  A tall order, indeed!
The person who made it happen was my grandmother, Margaret O'Sullivan Moriarty, whom we called Grandma Maggie.
It was she who decided the Moriartys would 

become Americans first, Irish second.

It was she who decided the angry tirades over centuries-old resentments against the British would stop.
It was she who decided her children would be born and raised in the twentieth century, not the nineteenth.

It was she who decided that we would leave the world of the "Celtic Twilight" and settle in the land where day followed night.
My grandmother's decision that her family could and would adapt proved once again that evolution can be as much about decision as it is process, and that it all begins with becoming willing to change.  Thank you for that legacy, Grandma Maggie.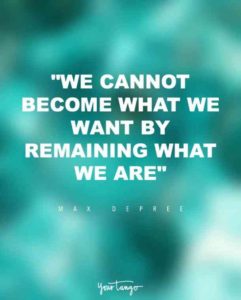 Just a thought…
Pat
Copyright © 2018 Patrick J. Moriarty. All Rights Reserved.
Would you like to submit a post to Just A Thought?  To learn more, please click here.