Character cannot be developed in ease and quiet. Only through the the experience of trial and suffering can the soul be strengthened, ambition inspired, and success achieved. – Helen Keller
I've often found myself asking, "Am I the real thing?"  I've wrestled with my shadow self through much of my life, maybe because it's been easier hyping the image of me than experiencing the trial and suffering of becoming a true me.  When I found my way into the program I felt myself beholden to my secrets, swallowed by my shadow, with an identity in shreds.  This question of character became for me a matter of life and death importance.  It wasn't until I faced my fears, owned my failures, and confronted my shadow self that I made any headway in learning about character.
Here is one such lesson.
Tom was an early mentor of mine.  I met him at a meeting I attended on Queen Anne Hill in Seattle.  I'd signed up to make coffee and I had to arrive early and stay late to clean up.  I noticed an older man who also showed up early and stayed late.  He concerned himself with picking up trash and discarded cigarettes butts and sweeping the entry ways around the building.  I assumed he was on the custodial staff of the church in which we met.  I saw him at other meetings as well, picking up trash and cigarette butts and using his broom to tidy up.  I thought maybe he was just a little off so I kept my distance.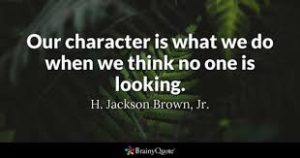 Months passed and one night at a big Speakers Meeting this gentleman walked over to the rostrum and announced himself, "I'm Tom, I'm an alcoholic, and today I'm celebrating 25 years of sobriety."  WOW, I thought, this is the same man with a broom and a garbage bag cleaning up after meetings.
What a story he had to tell.  He had grown up in Oregon, had been an all state athlete in three sports, the valedictorian of his class and was a Stanford grad.  He went into finance and made a fortune.  Then, he said he got greedy and began to move money around to create more wealth for himself.  This went on for years.  When the market turned, his account juggling intensified as did his drinking.  Soon he found himself engaged in a Ponzi scheme and in no time the claims being made on his accounts were more than he could meet and the whole thing collapsed.  He was ruined.
He went away to prison and sobered up.  It was in prison he learned he was
just as common a criminal as any other inmate,

just as selfish and self-centered,

just as much in need of redemption.
It was in the discovery there wasn't a dime's worth of difference between himself and any of the other guys doing time that he found a way to reclaim his character.
Character is like a tree and reputation is like a shadow. The shadow is what we think of it; the tree is the real thing." — Abraham Lincoln
Tom had an interesting expression to describe his character defect.  He called it "terminal uniqueness."  Tom said he spent his time in prison unwinding himself from the trappings of his uniqueness, his fancy degrees, his athletic accolades, and his so-called business success.  Anything and everything that fed into his need to feel special were rooted out from his soul.  In becoming an average Joe, he was able to understand we all have the same hopes and dreams and that it's in this sameness we find peace of mind.  It's in this sameness we find a shared happiness.  Tom worked his program and stayed sober.  After he was paroled he spent the next 20 years cleaning up the wreckage of his earlier life.
David Brooks in his book The Road to Character suggests that true character is claimed not through asking what do I want from life but rather what does life want from me?  What are my circumstances calling me to do?  In this scheme of things we don't create our lives; we are summoned by life.
Tom was summoned to a role of insignificance in the eyes of the world but of enormous significance in allowing him to reclaim his character.  He listened to his life and what he heard was he'd find himself at the other end of a broom.  It was in this act he would live his destiny happy, joyous and free.
In the end, it's not the talk but the walk that matters.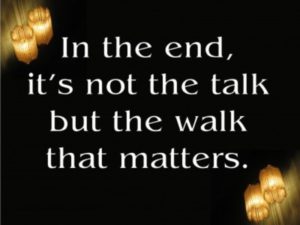 Just a thought…
Pat
Copyright © 2018 Patrick J. Moriarty. All Rights Reserved.
Would you like to submit a post to Just A Thought?  To learn more, please click here.