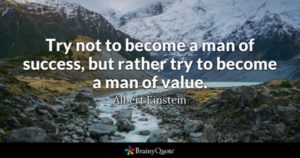 What constitutes a successful life?  We are accustomed to defining success in terms of wealth, power and prestige.  But is this what truly makes for a successful life?
The word success comes from the Latin succedere, which simply means "make something happen."  So what if the something accrued to the benefit of others rather than oneself?  What if success was defined by a person's value to others?
The connection between successful behavior and good behavior has been lost, and success now trumps goodness as a desirable attribute.  Why is this so?  It's not that long ago that I remember my mom and dad encouraging me to be a good boy and abide by the golden rule.  This was my number one charge in life: be good!
Don't pick on your brothers and sisters.

Help Mrs. Shaw with her groceries.

Be nice to the boy across the street.

Don't jump in front of the line.

Share your toys.

Say you're sorry when you hurt someone.

Always say thank you.
To be sure, these were simpler times.
What's coming into full view now are the hazards of defining success without regard to moral and ethical values.  As Alexander Solzhenitsyn observed,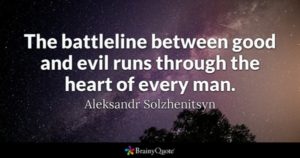 Maybe what we need is a new paradigm for success based on ethical behavior that benefits the many and not the few.  What if success was characterized by goodness?
Here's such a success story:
My Aunt Annabelle McCoy was a member of the Sisters of Charity Providence from 1942 until her death in 2004.  (Her professed name was Sister Mary Audrey).
She and her six sisters were raised in Yakima, Washington during the Depression.  My Grandpa Jack, her father, was a chronic alcoholic, largely unemployed, and Grandma Francis worked outside the home to support the family.  My mother, the eldest sister, was left to care for her sisters.  This arrangement did not work well and the family was soon unraveling.
In 1931 the McCoy family moved next door to Mrs. Laura Lindekugel, "Mama Lindy" to those who knew her.  She was a widow with nine children, a devout Catholic, and an excellent gardener.  She kept a robust garden and with chickens and an apple tree out back she had enough food to feed the neighborhood, and feed them she did.  If anyone came by in need of a meal the soup was always on; Mama Lindy made sure no one went hungry.
My mom and her sisters found in Mama Lindy a surrogate mother.  She was their lifeline, whether it was corn that was needed, cardboard for hole-ridden shoe, or a cookie on a forgotten birthday.  Mama Lindy was always there.
Mama Lindy carried her burdens lightly, never complaining about not having enough, even though she had a lot of mouths to feed.
Mama Lindy was filled with the business of living and thrived on the demands of that busy life.
Mama Lindy was the picture of a successful life.
Mama Lindy etched into the soul of my Aunt Annabelle this picture of goodness, so much so that she, like four of Mama Lindy's own children, entered religious life.  In the world of 80 years ago a vocation in religious service was among the clearest ways to serve others.  Aunt Annabelle (Sister Mary Audrey) would dedicate the next 62 years of her life to serving the poor as a Sister of Charity Providence.  When she was old and arthritic she refused to retire, electing instead to volunteer to clean the homes of elderly people in need.  She, more than any human being I ever met, took her very identity from serving the poor.
I spent many hours with my aunt in the last years of her life.  She often reflected on her time in Yakima during the Depression.  What she remembered was the goodness of those days all because of one powerful, poignant, purposeful person, Mama Lindy.  Mama Lindy, the woman who made something happen in the life of one poor girl in Yakima, Washington, sharing her goodness and demonstrating what really constitutes a successful life.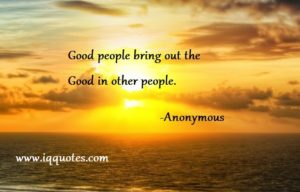 Just a thought…
Pat
Copyright © 2018 Patrick J. Moriarty. All Rights Reserved.
Would you like to submit a post to Just A Thought?  To learn more, please click here.