Recently Marsha and I were out to dinner.  We were seated next to a family of four, an attractive couple with two adolescent children.  I paid them no mind until it dawned on me there was no sound, no chatter at all coming from their table.  When I looked over they all were intently staring at their phones.
Really intently!
When we finished our meal and it was time to pay our bill the scene at the adjacent table hadn't changed.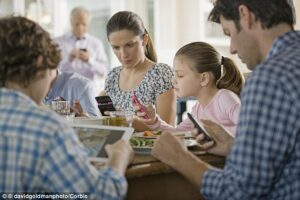 They all, in solitary silence, were fixated on their phones.  Hmmmmmm.
I read there are:
5,700,000,000 smart phones in circulation,
3 hours a day we spend in non-voice activities.
I wonder how many solitary meals are being eaten today?
Now, I understand change is part of the human experience, including how we communicate. But what struck me in this encounter was what was not taking place.  There was no face-to-face human connection, only four individual souls each occupying their own solitary world.
Some of us remember when meals were times of organized chaos central to the maintenance of a family's life.  The time to:
Check in with one another,
Report on upcoming events,
Share opinions on this, that and the other thing,
Probe a little into what might be troubling us.
Not exactly scenes from Norman Rockwell, but — close.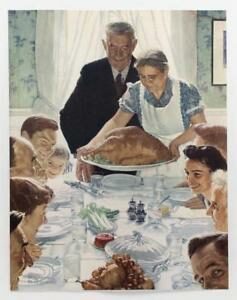 This I will say: There was no more important time to the Moriarty family than the family meal.  Particularly on Sunday.  Mother would make a pot roast with all the trimmings.  Often Grandma and Grandpa would join us and Dad would act as toastmaster.  Mom and Dad insisted we all bring our A-game to the dinner table and if we didn't, we'd hear about it.
Sunday dinner was a continuous history lesson, civics lesson, and therapy session all wrapped into one.  Dad lectured us on the virtues of shoveling coal during the depression, Mom badgered us to talk about our week, and then there was the news.  We always talked about the news of the day.  Dad called on us individually to report the progress we were making in school.  This I remember being the shortest part of our dinner conversation.  And there were the times my brother Kevin would turn the dinner hour into a one-man improvisational comedy routine, as only he could do.
The fellowship we experienced around the dinner table came to define us as a family and in a strange sort of way brought out the best in our parents.  Don't get me wrong, there were times where rolls were tossed, milk was spilt, and hands were waved.  The point is our family's soul was always fed at the dinner table, the "soul glue" that kept us united and fixed our common identity.
There was one dinner guest I remember most of all, an old carpenter my parents hired to build shelving for us.  His name was Ed Johnson.  He was a veteran of the Spanish American War and a guy down on his luck.  He lived on skid row in the old Yesler Hotel.  Mom always made sure to feed him dinner after his work was done.  We knew that Mom and Dad were lending a helping hand to this old vet, and it was a priceless lesson in compassion and humanity.  Dining with old Ed was also interesting because he had stories and memories going way back.  It was food for our young souls.  We never would have encountered Ed Johnson or shared in so many other enriching events had dinner not been elevated to a position of singular importance.
It's not for me to pass judgement on the family Marsha and I encountered at the restaurant.  I'm sure they had ways of bonding themselves to one another that I could not see.
My observation is the family as well as the individual must be fed, and one way to do that is through fellowship when we share a meal together.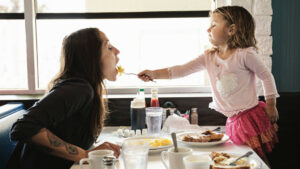 Just a thought…
Pat
Copyright © 2019 Patrick J. Moriarty. All Rights Reserved.
Would you like to submit a post to Just A Thought?  To learn more, please click here.