When Charles Hahn, my father-in-law, passed away earlier this year, I was asked to deliver his eulogy. I never could have imagined how challenging it would be.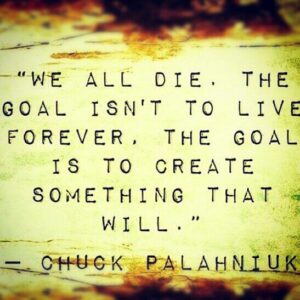 I so wanted to ask him what he thought of his legacy, what was the message of his life. I could only guess because we'd never talked of such things. All I could offer were my own reflections because he was gone.
So let me ask you:
How would you like to be remembered?

What is your legacy?

Who will be your messenger?
I recently came upon two poignant stories of people communicating their living legacies.
The first involves my friend Bruce Michels, and his grandson Gavin's work to memorialize his grandfather's heroic service in Vietnam. Gavin has produced a wonderful YouTube series entitled: "Grandpa and Grandson: Inner View." It is a true labor of love, done prior to Bruce's death on August 10, 2020.
Bruce was a United States Navy captain and a real-life war hero. Gavin has captured one event of particular significance.
Captain Bruce Michels was stationed on a Naval vessel when it came upon a violent storm off the Aleutian Islands. One seaman was thrown overboard. Another shipmate, a friend of Bruce's, went in after him. Soon they both were in trouble, fighting for their lives. It was then that Bruce plunged into the frigid waters and saved them both.
For that act of bravery Captain Bruce Michels received a special commendation. Here, Gavin shares that legacy: (If you have trouble opening the link, please scroll back to the top of this message and click on the post title. The post will then open in the Just A Thought website, which will allow you access to this video.)
Bruce served his country with uncommon valor and Gavin has ensured the memory of his service will never be forgotten.
The second story concerns Broadway producer Oscar Hammerstein and actress Mary Martin. 
It was 1959 and Oscar Hammerstein had been diagnosed with stomach cancer. The illness was advanced, but he was working hard on the Broadway production of The Sound of Music and told no one about his diagnosis. He wanted no pity, no publicity, no attention. His focus was on getting the musical ready for its opening night.
Knowing he had not long to live, he thought what song he might leave as a capstone to his career. This was the man who penned lyrics that were to awaken our conscience to the issue of misogyny in Oklahoma; racism in South Pacific and Showboat; chauvinism in The King and I; assimilation in Flower Drum Song;  and Nazi persecution in The Sound of Music.

All were remarkable productions for their time, with bold, assertive messages.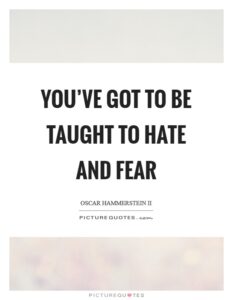 But now, with only weeks to live, he penned the lyrics he wanted as his grand finale.
Prior to being admitted for his final surgery, he stopped by the theater to convey encouragement and inspiration to the cast. While there he passed a piece of paper to Mary Martin on which he had written the words to his final song. He then left, never to see her again. Mary Martin took it upon herself to find a place in the show to include the song and later stitched the lyric onto a pillowcase she kept for the rest of her life.

Then, on opening night of The Sound of Music, all heard that memorable song performed for the first time.
"A bell is not a bell till you ring it. A song is not a song till you sing it. Love in your heart isn't put there to stay. Love isn't love till you give it away."
Oscar Hammerstein passed away on August 23, 1960. Broadway fell silent, the lights of Times Square were blacked out, but his music continues to be heard in venues large and small and that memorable lyric lives on in eternity.
So thank you, Oscar Hammerstein, for the songs we cherish.
Thank you, Mary Martin, for memorializing his message.
Thank you, Bruce Michel, for a life well lived.
And, thank you, Gavin, for showing us all how to etch into our hearts an eternal memory of the people we love.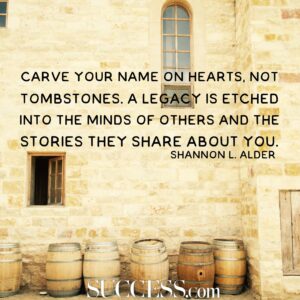 Just a thought…
Pat
Copyright © 2020 Patrick J. Moriarty. All Rights Reserved.
Would you like to submit a post to Just A Thought?  To learn more, please click here.