I'd like to invite all our readers to the memorial service for Charles Hahn. The "virtual" service will be conducted over Zoom on Saturday May 30th at 1:00 pm Eastern Time, 10:00 am Pacific Time. Pat will be offering the eulogy. We will send the invitation link (which isn't ready quite yet) with next week's post.
Marsha
When Marsha and I decided to moved to Everett, Washington we had no idea where we would live. It was for us one of the more unsettling elements of our resettlement, and we pretty much decided to trust that we would find something we both liked and could afford. As it turned out, we ended up in the lovely Bayside neighborhood.
I had no idea we'd be living in a virtual arboretum. What distinguishes the neighborhood is the beautiful landscaping surrounding so many homes. Our neighbors are keenly sensitive to the aesthetics of how their properties are presented. As a consequence, our daily walks are a visual delight.
Let me illustrate: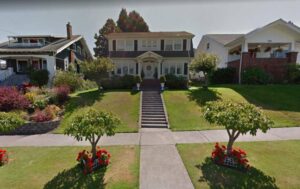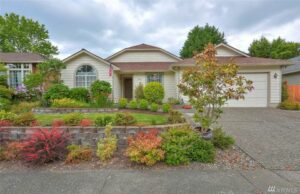 It's almost as if the community shares a common garden that is a blessing for us all. I know our neighbors have many different motives for caring for their gardens, but the net effect is everyone benefits. It's easy to lose touch with the simple truth that the beauty we make visible for ourselves is made visible to others, and we become a blessing to others whether we intend it or not.
When we come upon a neighbor working in their yard we always stop and thank them for the gift they give all of us. Whether we plan it or not, the seeds we plant on our side of the fence find their way to the other side, as in this story by Randy Reynolds.
The Other Side of the Wall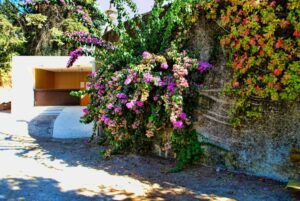 There was a young woman who took great pride in the growth and care of the flowers in her flower garden. She had been raised by her grandmother who taught her to love and care for flowers as she herself had done. So, like her grandmother, her flower garden was second to none.
One day while looking through a flower catalogue she often ordered from, a picture of a plant immediately caught her eye. She had never seen blooms on a flower like that before. "I have to have it," she said to herself, and she immediately ordered it. When it arrived, she already had a place prepared to plant it. She planted it at the base of a stone wall at the back of her yard. It grew vigorously, with beautiful green leaves all over it, but there were no blooms. Day after day she continued to cultivate it, water it, feed it, and she even talked to it attempting to coax it to bloom. But, it was to no avail.
One morning weeks later, as she stood before the vine, she contemplated how disappointed she was that her plant had not bloomed. She was giving considerable thought to cutting it down and planting something else in its place.
It was at this point that her invalid neighbor, whose lot joined hers, called over to her. "Thank you so much! You can't imagine how much I have enjoyed the blooms of that vine you planted." The young woman walked through the gate into her neighbor's yard, and sure enough, she saw that on the other side of the wall the vine was filled with blooms.
They were indeed the most beautiful blooms she had ever seen. The vine had crept through the crevices and though it had not flowered on her side of the fence, it had flowered luxuriantly on the other side. Just because you cannot see the good results of your labour does not mean that it bore no fruit.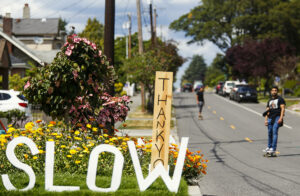 Just a thought…
Pat
Copyright © 2020 Patrick J. Moriarty. All Rights Reserved.
Would you like to submit a post to Just A Thought?  To learn more, please click here.