All families have stories of black sheep, and some sheep can wander into some pretty dark places.  My family is no different.  We, too, have our black sheep, and at one point I counted myself as one.  Then, later, I discovered life's not so simple.  We all have our spots.  White sheep have black spots, and black sheep have white spots.
It's just that some of us are spottier than others.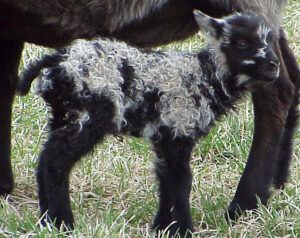 Here's the story of how Grandpa Jack McCoy found his spots.
My brother Kevin always had a passion for family history and made it his mission to learn about our clan.  Grandpa Jack McCoy was born in 1884 into a family somewhere in Arkansas.  As a young man he migrated to Denver where he opened a restaurant and met and married my grandmother.  Later they bought a farm in Wyoming.
With the coming of the Depression Jack was forced to sell his farm and to look for work.  They had six girls to feed, but the work he found was never steady and the family was constantly on the move.  Soon Jack was drinking more than working and Grandma became the primary breadwinner.  She hired out to elderly couples as a practical nurse, often working outside the home for days at a time.  She left it to my mother, the eldest, to care for her five sisters, as Grandpa Jack became hopelessly incapacitated by his alcoholism.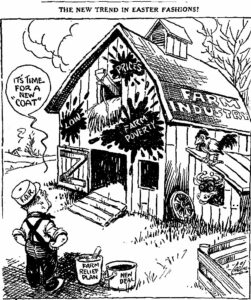 Then, with the surprise birth of a son, Jackie, Grandpa sobered up for a time, found employment and freed my grandmother to return to the home.  Tragedy struck again when young Jackie died of testicular cancer at age 16.  Grandpa Jack relapsed hard and deserted the family.  To where, no one knew.
In 1957 we got the news that a decomposed body, identified as Grandpa's, had been found in an irrigation ditch in Yakima, Washington.  Mother collected his remains and had him laid to rest in Calvary Cemetery.  The sad, tragic life of Jack McCoy had finally come to an end.  Or, so it seemed.
But before I tell the rest of the story a little family history is necessary.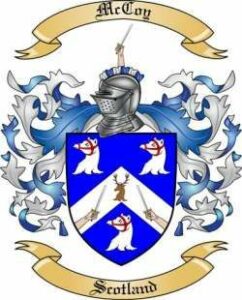 The McCoy clan had been early settlers in America.  They were a hearty breed of Scots Irish from Ulster.  They fought in the Revolutionary War and were among the first European pioneers to push west in search of new land.  Some settled in Texas, in the region around San Antonio. They were recipients of a land grant and founded the town of Gonzales. They're honored as pioneers of Texas.
They found a place in history at the Battle of the Alamo.  Sheriff Jesse McCoy (my mother's namesake) was attacked by an officer in Santa Ana's army which then precipitated a battle.  The fighters from Gonzales entered the fortress at the Alamo where members of an army brigade were stationed five days before the early morning attack that ended in the deaths of all 189 defenders who were within.
Those from Gonzales were forever to be known as the The Immortal 32 Gonzales Rangers.  No family had sacrificed more than the McCoys; Jesse, Daniel and Prospect McCoy perished there.  All were celebrated as heroes.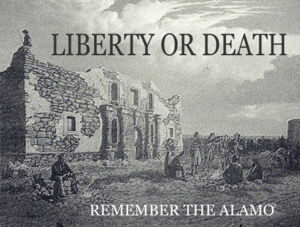 The reputation of a family can be difficult if not downright impossible to live up to.  Certainly this was true for Jack McCoy.  When he was first buried, in 1957, no such hero was being laid to rest.
But here's the thing — Jack McCoy didn't die in Yakima in 1957.   The body found wasn't his.  The real Jack McCoy showed up at our house months later searching for his Social Security check.  As fate would have It, young four-year-old Kevin Moriarty would greet him at the door and with that a final, heroic chapter of my grandfather's life would be written.  Grandpa Jack reunited with my grandmother, reconciled with his children and formed a tender bond with Kevin.  He died in 1962 and the family had a proper funeral to send him off.
Kevin memorialized this miraculous story in a play he wrote, produced and staged, "A Rose For Danny."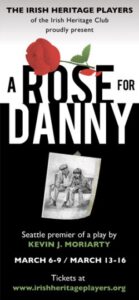 The play transformed the legend of Jack McCoy from one of loss and abandonment into one of reconciliation and renewal.  Kevin provided grandpa with a heroic footnote to his life, and as a last tribute he had Grandpa's name finally etched onto his unmarked gravestone.  Grandpa became the black sheep who found his spots.
Do you need to find your spots?  I imagine they are right there if you let yourself see them.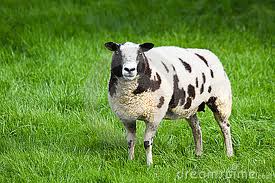 Just a thought…
Pat
Copyright © 2019 Patrick J. Moriarty. All Rights Reserved.
Would you like to submit a post to Just A Thought?  To learn more, please click here.