Marsha and I like to walk over to Grand Avenue Park in Everett after dinner to watch the sun set over the Olympic Mountains.  The scene is so picturesque, so grand, so serene, so beautiful.  I remember as a boy watching the sunset from Discovery Park and feeling the same serenity.  I lived away from the Pacific Northwest for 37 years and hardly a day went by when I didn't imagine this sunset.  The memory was like oxygen to my soul.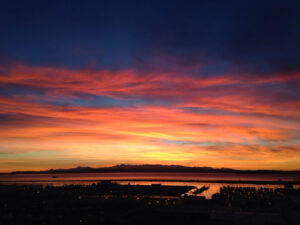 Beauty has many ways of reaching us:
Through the sounds we hear
Through the words that we read
Through the art we create or experience
My mother helped me first discover beauty as she recited her favorite stanza from the poem, Locksley Hall, by Alfred Tennyson.
When I dipt into the future far as human eye could see;
Saw the Vision of the world and all the wonder that would be.—
In the Spring a fuller crimson comes upon the robin's breast;
In the Spring the wanton lapwing gets himself another crest;
In the Spring a livelier iris changes on the burnish'd dove;
In the Spring a young man's fancy lightly turns to thoughts of love.
My dad would sparkle when he danced.  He was an accomplished ballroom dancer (even without a partner).  He'd glide across the living room floor to the music of Glen Miller, Tommy Dorsey or Harry James, or better yet dance the night away with Mom at the Twin Dragons.
My first introduction to classical music was from Randolph Hokanson, my friend Sarah's uncle.  He was a distinguished classical pianist who taught at the University of Washington and performed for audiences around the world.  He lived to be 103 and was still performing recitals at 100.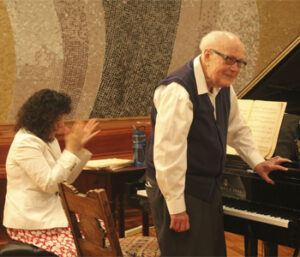 Beauty is kept through sharing
Beauty endures through rediscovery
Beauty regenerates itself through memory
I was working for the Seattle Repertory Theatre when they staged the Terrence McNally play, Frankie and Johnny in the Clair de Lune.  It's a wonderful story of two middle-aged, lonely people who come together.  What made the production an event for me was the background music of Claude Debussy's Clair de Lune.  The incomprehensible beauty of this melody has stayed with me for more than 30 years.  I cannot say that I'm a better person for having known beauty, but my life has been made immeasurably more joyful for it.
Beauty begs to be passed on from one to another.  I'm a grandparent now and Marsha and I would like to share beauty with our grandson Sam.  When Sam sleeps over at our house we've developed a ritual when he wakes up in the morning.  He charges into our room, climbs up into bed with us, and the three of us snuggle up together as we play Clair de Lune, which we refer to as "Sam's song."
Claude Debussy might not have imagined that a little two-year-old would have claimed Clair de Lune as his own, but such is the way of beauty — once beheld it's never relinquished.  I hope you will enjoy something beautiful today.
Just a thought…
Pat
Copyright © 2019 Patrick J. Moriarty. All Rights Reserved.
Would you like to submit a post to Just A Thought?  To learn more, please click here.