"If we never experience the chill of a dark winter, it is very unlikely that we will ever cherish the warmth of a bright summer's day. Nothing stimulates our appetite for the simple joys of life more than the starvation caused by sadness or desperation. In order to complete our amazing life journey successfully, it is vital that we turn each and every dark tear into a pearl of wisdom, and find the blessing in every curse."  ~ Anton St. Marteen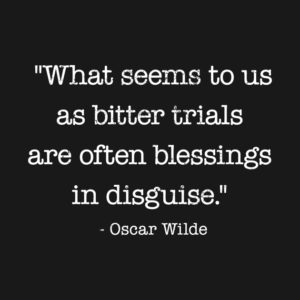 But sometimes it's damn hard to uncover pearls of wisdom when they're so thoroughly disguised as dark tears.  It seems like life is one long adventure of discovering disguised blessings.
I've often failed to recognize the blessings that have come my way — like the time in 1981 when I was arrested in Minneapolis for driving while intoxicated (DWI).
It was February and cold, 30 degrees below zero cold.  I'd run out of wine and headed out for more.  I was in such a hurry I didn't so much as bother to put on a coat.  I was dressed only in a T-shirt, flip flops and shorts.  On my return drive home I was so focused on drinking I missed my exit and drove off the road into a snow bank.  Here I was stuck, dressed like I was on a Hawaiian vacation, when a state police officer stopped, assessed my condition and promptly arrested me on suspicion of DWI.
I was thrown into a drunk tank with six other guys when one came up to me and asked me if this was my first DWI.  I said it was.  He then told me it was his fifth and this time he'd hit a pedestrian.  He knew he'd be sent away for a long time.  He said to me , "A word to the wise: take your medicine now — this will never get easier."
I missed my disguised blessing entirely when I decided to contest the charge and ultimately got it reduced to a simple driving infraction.  I spent the next five years lost in splendid misery.  Finally, when I did sober up in 1985, I did learn my lesson on the strange disguises in which blessings are delivered.
Like the one delivered to me by a Chicago pickpocket.
It happened one Friday morning in November of 2011.  I was boarding a commuter train downtown when an old man fell against me.  He seemed to be stumbling so I helped him out the door.  It wasn't till I exited the train that I realized my wallet was gone.  I had planned to leave that evening on a business trip but quickly realized without my wallet and ID I was going nowhere.  I called to mind the serenity prayer, and settled in for the weekend.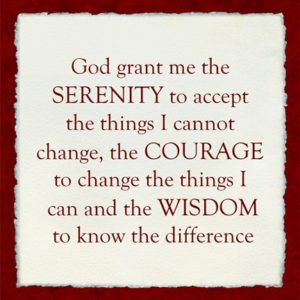 I went to bed feeling just a little off and when I awoke the next morning I was sick.  Over the course of the next two days got sicker and sicker, so sick that by Tuesday Marsha said I either accompany her to the hospital or she'd send for an ambulance.  I was diagnosed with E coli.  I realized that had I gotten on that plane to Grand Forks, North Dakota, without Marsha to insist I get medical care, it might have killed me.  As it was, the whole experience turned into a grand reminder that if I'm ever to receive the blessings that come I must first understand they are often disguised as unwanted challenges.
I invite you to take a moment and consider the challenges in your path, and to ask yourself whether there may be hidden opportunities, or disguised blessings that you can't quite see yet.  Thank them in advance and see what might be revealed.
Just a thought…
Pat
Copyright © 2019 Patrick J. Moriarty. All Rights Reserved.
Would you like to submit a post to Just A Thought?  To learn more, please click here.
Just a Thought
Pat