My good friend Hiraman Gavai offers some thoughts in this morning's post.
I met Hiraman many years ago in Brussels when we both worked for the same non-profit.  He currently resides in Pune, India with his dear wife Mangala.  While we've been separated by distance we speak a common language, one the writer Henry David Thoreau calls the language of meaning.  Hiraman and I caught up again on my recent trip to India.  He is a fascinating and wise man, having grown up in the village of Sevagram, the home of Mahatma Gandhi, where his father was both a follower of and friend to the Mahatma.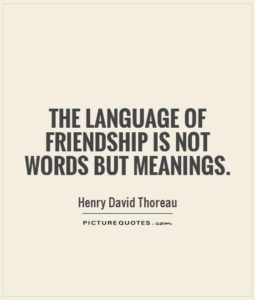 J
Hiraman's thoughts on friendship:
I never sat on a sofa with my father after my marriage.  I had already left him.  Many years ago, after I got married, I was sitting on a couch on a hot humid day, sipping frozen juice during a visit to my father.  As I talked about adult life, marriage, responsibilities, and obligations, my father thoughtfully stirred the ice cubes in his glass and cast a clear, sober look at me.
"Never forget your friends," he advised, "They will become more important as you get old.  Regardless of how much you love your family and the children you happen to have, you will always need your friends.  Remember to go out with them occasionally, do activities with them, call them."
What strange advice, I thought.  I'd just entered the married world, I am an adult and surely my wife and the family we start will be everything I need to make sense of my life.  Yet I obeyed him, kept in touch with my friends and annually increased their number.  Over the years, I became aware that my father knew what he was talking about.
Inasmuch as time and nature carry out their designs and mysteries on a man, friends are the bulwark of my life.  After many years, here is what I've learned:
Time passes
Life goes on
The distances increase
Children grow up and leave home
Jobs come and go
Illusions, desires, attractions, sex decrease
People do what they should not do
Parents die
Colleagues forget the favors you did them
The races are over.
But true friends are always there, no matter how long or how many miles away they are.  A friend is never more distant than the reach of a need, reaching out to you, intervening in your favor, waiting for you with open arms or with blessings for your life.
When we started this adventure called LIFE, we did not know of the incredible joys or sorrows that were ahead.  We did not know how much we would need from one another.  Love your parents, take good care of your children, but keep a group of good friends.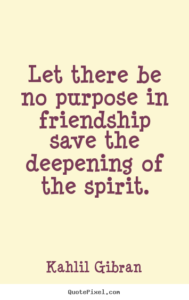 Perhaps as a way to continue to fertilize Hiraman's thoughts we can reflect on these verses, On Friendship, from Kahlil Gibran:
They are your field which you sow with love and reap with thanksgiving.  And they are your board and fireside.  For you come to them with your hunger, and you seek them for peace.  When your friends speak their mind you fear not the 'nay' in your own mind, nor do you withhold the 'aye.'
And when they are silent your heart ceases not to listen to their heart; for without words, in friendship, all thoughts, all desires, all expectations are born and shared, with joy that is unacclaimed.  When you part from your friends, you grieve not; for that which you love most in them may be clearer in their absence, as the mountain to the climber is clearer from the plain.
And let there be no purpose in friendship save the deepening of the spirit.  For love that seeks aught but the disclosure of its own mystery is not love but a net cast forth; and only the unprofitable is caught.
And let your best be for your friends.  If they must know the ebb of your tide, let them know its flood also.  For what are your friends that you should seek them with hours to kill?  Seek them always with hours to live.  For it is theirs to fill your need, but not your emptiness.
And in the sweetness of friendship let there be laughter, and sharing of pleasures.  For in the dew of little things the heart finds its morning and is refreshed.
That you may be surrounded in the company of old friends
Just a thought…
Pat