Enjoy today's post from friend Greg Nance, who currently resides in Shanghai.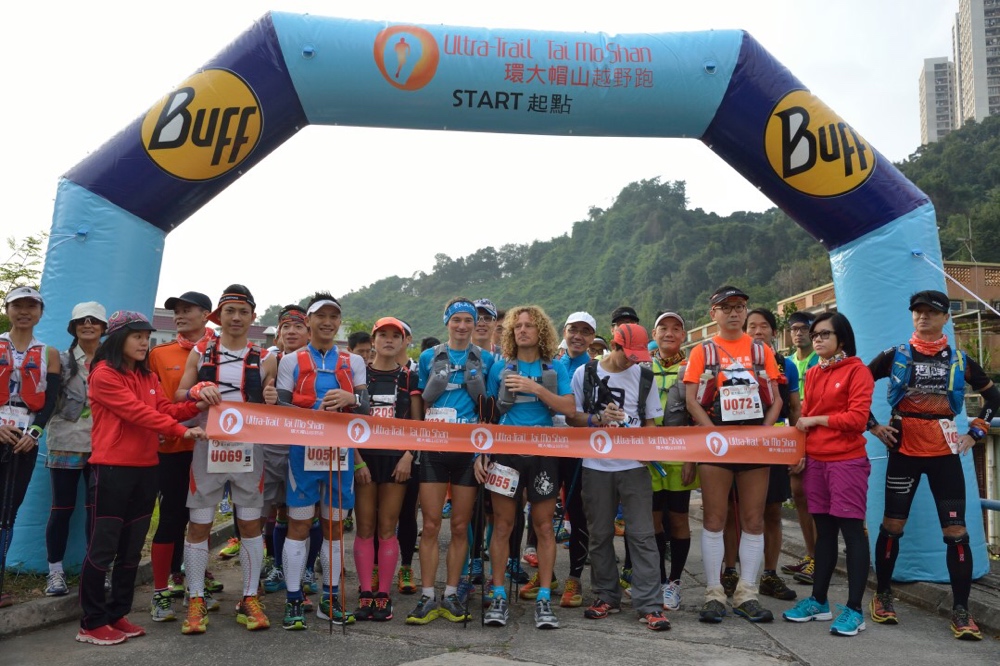 On New Year's Eve I toed the start line of the Ultra Trail Tai Mo Shan, a 100-mile tour of Hong Kong's jungled trails.
Along with 292 other ultrarunners, I set out to ring in 2017 by climbing 9,032 meters of cumulative elevation and soaking in the majestic mountaintop views.
Why?
I love to celebrate each New Year with a big challenge to create momentum for the year ahead. An icy polar bear swim of Turkey's Sea of Marmara to begin 2012 kicked off a great span of open water swimming including crossing the Thames, Seine, Moskva, Jordan and Huangpu rivers. To start 2013, I attempted a speed solo up Mt. Rainier (aborted after triggering major snow slides) that was solid conditioning for speed ascents in China's Sichuan and Yunnan provinces.
I believe it's essential to push past your comfort zone, to pursue a goal so big you must summon all your strength – mental, physical and spiritual – to reach it.
By doing so, we realize the only limits which can contain us are those we place upon ourselves.
2017 also marks a special personal milestone – five years since my last drink. Alcohol used to be a daily escape for me. For too long booze was how I'd deal with stress, disappointment, and the bumps and bruises of life. Running has become an outlet to process and channel life's many challenges in a healthier way. This ultra run was to commemorate five years of sobriety and celebrate the path ahead.
Destination: Hong Kong.

Many Americans rightfully picture Hong Kong as a thriving East-meets-West metropolis with a robust financial sector and glittering skyline, teeming with massive cargo ships, posh shopping malls and a fashionable urban populace. Many forget that Hong Kong (literally "Fragrant Harbor" in Chinese) boasts an incredible natural environment off the coast of China's Pearl River Delta. Less than a quarter of the territory is developed and most of the land remains near-vertical rainforest and grassland. Hong Kong has a long, jagged coastline with many hidden rivers and bays that foster ecological diversity and countless shades of green.
The ultra is named for Hong Kong's highest peak, Tai Mo Shan, standing just 3,140 ft. but protected by a series of deceptive trails and slopes, many composed of loose rock which crumble under foot. The course is designed to test runners through a rolling gauntlet of natural obstacles with overgrown trails of verdant foliage, hidden roots, brambles and spider webs chief among the unrelenting culprits.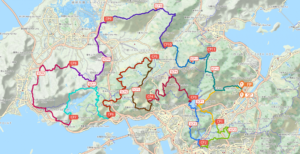 I knew the Ultra Trail Tai Mo Shan would be a real gut check for me, particularly because I've been training in pancake-flat and temperate Shanghai. Four-hour sessions on an inclined treadmill or cardio circuits in the gym sauna are poor imitations for course conditions. Worse, I had to take five weeks off from training this fall to rest a tweaked back and even considered scratching my entry to the race. Remembering that fate favors the bold, I redoubled my resolve.
Hong Kong's heat, humidity and hills quickly zapped my triumphant attitude. My calves worked overtime to propel me up each hillside but my quads and knees ached with each descending step over tumbling rocks. By mile thirty my overburdened left leg was cramping from fatigue. I re-focused on the next stride but felt the spring in my step vanishing to little more than a power walk.
Famished at a checkpoint around mile sixty I fueled up with bananas. Desperately craving salt to replace lost sodium, I even sampled crab stew and a local energy drink. Big mistake. Within five miles I felt queasy and was unable to keep food or water down.
Hong Kong's hills attempted the coup de grâce but I resisted and gutted out another twenty miles with a dizzying headache and mounting calorie deficit before timing out at mile eighty-six.
Back at my hotel, I slowly removed my racing gear. Though the finish line remained fourteen miles beyond my stride, I know I left it all out on the course.
I reached for my limit but fell short. I'm back home now to lick my wounds and am already planning a rematch with Hong Kong's hills. I'll come back stronger to give the course my best shot!
At the start line on New Years Eve in Hong Kong, 292 of us looked up into the hills and envisioned the quest ahead. Each of us faced unique challenges in the miles before us. Ultrarunning has become a mobile meditation where I worship in a natural cathedral. To rediscover our purpose, sometimes we must push ourselves to the very brink.
You can spend a few moments too reflecting on the challenges on your horizon and planning how you can begin the New Year with a running start.
Here's to a banner 2017. Let's make it our best year yet!
Just A Thought…
Greg
If you would like to submit a post to Just A Thought, please contact Marsha at mhahn013@sbcglobal.net.