The only thing that is permanent is impermanence. ~  Buddha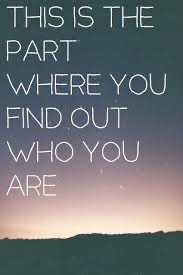 Our son and daughter-in-law have announced they're divorcing. So our family has entered a period of hard times, a period made more challenging in light of three precious grandchildren who'll need help adjusting to their new world.
As grandparents, Marsha and I will do all we can to provide support, as will others in their extended families.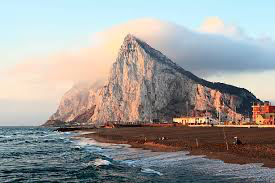 In my experience, navigating hard times requires the help of many:
friends

family

counselors

co-workers, teachers, and many others

It does take a village.
In truth, we have all survived hard times of one kind or another. At the onset we ask how we will ever get through, and if we do, what kind of future awaits us? We learn it takes a boatload of grit, love, mercy and a "one day at a time"  kind of patience.
It's a time when the only thing that makes sense is the Serenity Prayer.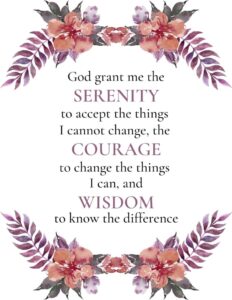 As it happens, I'm in the midst of reading the ultimate hard time story:
Touching the Void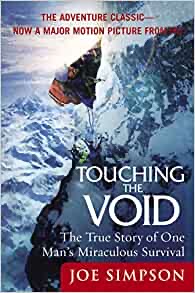 It's the story of two British mountaineers, Joe Simpson and Simon Yates, who in 1985 made the first-ever climb of the West Face of the 21,000-foot snow-covered Siula Grande mountain in Peru.
It was an exceptionally tough assault — but nothing compared to what was to come.
Early in the descent, Simpson fell and smashed his right knee, breaking his leg in three places. Yates could have abandoned him but managed to find a way of lowering him down the mountain in a series of difficult drops, blinded by snow and cold.
Then Simpson tumbled into a crevasse. Yates held him stationary for three hours as he swung over the abyss.
Finally, to save himself from going into the crevasse, he cut the rope.
Yates, believing his friend had died, started his lonely trek home.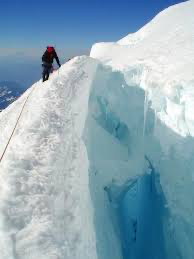 But as fate would have it Simpson did not die. He'd fallen onto a ledge where he lay to contemplate his fate. He could not walk. He had no food or water. It was six-and-a-half miles over a rocky moraine to base camp.
His mind told him he was at the end of his rope — his heart told him otherwise.
"As I gazed at the distant moraines, I knew that I must at least try. I would probably die out there amid those boulders. The thought didn't alarm me. It seemed reasonable, matter-of-fact. That was how it was. I could aim for something. If I died, well, that wasn't so surprising, but I wouldn't have just waited for it to happen. The horror of dying no longer affected me as it had in the crevasse. I now had the chance to confront it and struggle against it. It wasn't a bleak dark terror any more, just fact, like my broken leg and frostbitten fingers, and I wouldn't be afraid of things like that. My leg would hurt when I fell and when I couldn't get up I would die."
The void had spat him out and with it, all fear.
So through a monumental act of courage Simpson hauled himself out of the crevasse and for the next three days crawled back toward base camp.

Yates, racked with survivor's guilt at his role in what he assumed was his friend's death, had been initially unable to leave base camp.
He was about to head home when suddenly the delirious Simpson crawled into view.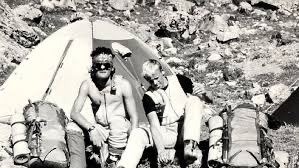 The survival story of Joe Simpson is one for the ages.
Simpson's journey through his hard time remade his life. His story was made into a movie and a play, and he's written eight books and become a world-renowned speaker.
But isn't his story our story? Aren't we, too, remade during periods of hard times? And isn't survival sometimes a matter of choosing life over death?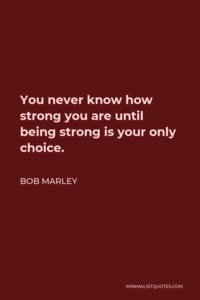 In our family's situation, what I want more than anything is that the little ones are eased through this transition with love, comfort, reassurance, and confidence. If I might borrow from Joe Simpson's story, the task will be getting them safely and securely to their new base camp. I have every confidence their parents are doing just that and we will be here with an endless supply of "Grandma and Grandpa love."
Just a thought…
Pat
Copyright © 2023 Patrick J. Moriarty. All Rights Reserved.
Would you like to submit a post to Just A Thought? To learn more, please click here.