"A bend in the road is not the end of the road… unless you fail to make the turn."  — Author unknown
I think it's safe to say that in the Coronavirus we've all found a bend in our road and, I suspect, we're wondering about the next turn.
It's also safe to say people are responding differently:
Some deny there is a problem,

others minimize its effect,

then there are those who simply check out.
Most of us are just trying to cope.
These folks in San Antonio are lined up at a food pantry.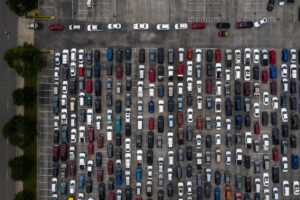 It's all a bit frightening.
The truth is fear is like a infection, and to be rid of it, we need a spiritual antidote. Luckily, we have one, in the form of a thought made famous by Franklin Roosevelt in his first Inaugural address.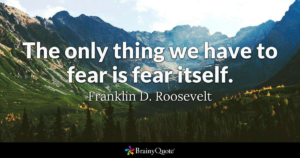 It may sound like a worn-out platitude but few observations have been as steadfastly accurate as this one.
Perhaps it's worth examining how FDR discovered it. In the summer of 1921, when his family was vacationing in Campobello, New Brunswick, Roosevelt learned a Boy Scout Jamboree was underway nearby. He decided to make an appearance, and after a round of golf the strapping, six foot two inch athlete found his way to the festivities.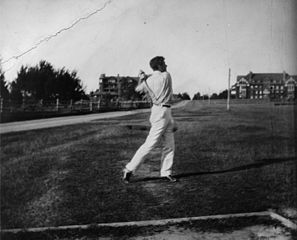 Then something catastrophic happened. Unknown to anyone, a certain Boy Scout was carrying the polio virus and, through a chance encounter, it found its way into the future president's body. On the evening of August 10, a feverish Roosevelt climbed into bed. It would the last time he would ever stand unassisted.

By all accounts, the name Franklin Roosevelt ought to have been forgotten forever. Surely, he was destined to live out his life as an invalid. But that's not how his story ended. True, he never would walk again. But that didn't mean he couldn't shuffle. Through endless hours of practice, balancing himself on two ten-pound braces, he learned to swing his legs from side to side and move forward.
George Will wrote that when the steel went onto Roosevelt's legs it also went into his soul, and with his steely soul he was elected Governor of New York and four times President of the United States. He led the nation through the Great Depression and the Second World War on two withered legs.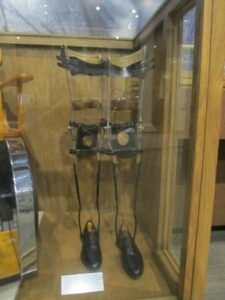 I became aware of this story after I was struck by a debilitating childhood affliction — stuttering.
One day I returned home from my kindergarten class with a stutter, an affliction that would haunt me for the next eight years. It became a source of great pain and humiliation. When asked to speak in public I became terrified and tongue-tied. In class this often was met by uproarious laughter. I remember one day at the doctor's office standing paralyzed, with tears running down my face, as I was unable to say my name.
For the life of me, I couldn't understand why God, all of a sudden, removed my ability to speak. I withdrew in fear into my own private world.
It was my father who helped me face my fear of public speaking. He challenged me, of all things, to enter a school speech contest. Dad knew the more I became comfortable with speaking the less I'd be afraid of speaking. He gave me a biography of FDR and suggested I use it as the topic of my speech. I was deeply moved by Roosevelt's story and felt a certain kinship. So I wrote a speech, including a poem by James Weldon Johnson, and used FDR's story of learning to stand on two withered legs.
Dad had me practice, practice, and practice until I mastered each word. Then, on the day of the contest, in front of the whole school, I recited my speech flawlessly. I won the contest.
More importantly, I conquered my fear of public speaking.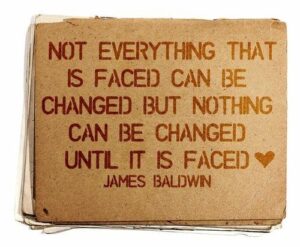 There is such a thing as healthy fear, and we are right to feel it in the face of this pandemic and all its implications. Armed with information and resolve, though, we can move forward, and invite steel into our souls as Roosevelt did. We can all learn to shuffle.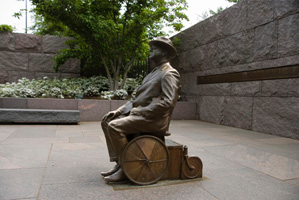 P

Just a thought…
Pat
Copyright © 2020 Patrick J. Moriarty. All Rights Reserved.
Would you like to submit a post to Just A Thought?  To learn more, please click here.