Noble fathers have noble children. ~ Euripides 
I recently attended a meeting where men shared intimate stories about their relationships with their fathers.  Some felt broken and bruised by their fathers, others told of fathers who provided protection and tender loving care.
Then there were the stories of "adoptive" fathers, the self-selected fathers who were stand-ins for absent or deceased fathers, or who provided supplemental fathering of some sort.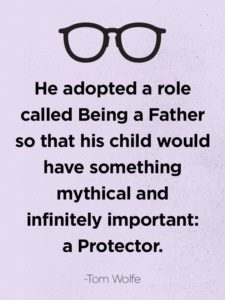 These stories struck a resounding chord with me.  I grew up in a crowded household, five children born within a span of six years.  Dad had always been a bit of a stranger to us.  One-on-one time was hard to come by; when I got mine it generally involved a visit to the "wood shed."
Dad was a traveling salesman and was gone a lot.  Before each trip Mother would gather us around the front room window so we could wave goodbye.  Dad was someone we mostly missed.  It was during such a trip we got news he'd died of a heart attack.  The shock of losing Dad clarified in an instant the supreme influence he'd been on my life.  I felt my very identity had been nothing more than a shadow of his and, as the eldest boy in an Irish household, a special responsibility had been conferred on me that I felt incapable of fulfilling.  My life had shattered into a thousand pieces.
Dad's funeral was a sad affair, lots of crying and too many pats on the back.  I remember little of the actual service, but one line in the homily jumped out at me.  "Other men will step up to father you when you need a father the most."  I went so far as to write those words on the back of a pledge card that I've kept ever since.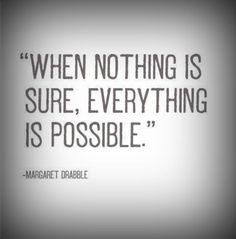 The promise of father figures appearing at times when nothing seemed sure has been kept throughout my life.  My enduring question has always been whether I would choose to adopt the fathers who were sent.  When I did, my life was transformed by those noble souls:
Eddie Craig, my soccer coach,
Carl Scarp, the wise man of our neighborhood,

Fr. Joe Small, an adviser at my high school,

Russ Hokanson, the father of my high school girlfriend,

Joe Mathews, dean of the Ecumenical Institute.
Noble men, one and all.  They taught me lessons critical to becoming a man, each in their own unique language.
From stories he told, it was clear my dad "adopted" General Douglas MacArthur as kind of father figure during the Second World War.  In the early days of the war MacArthur composed a prayer for his young son, Arthur, "A Father's Prayer."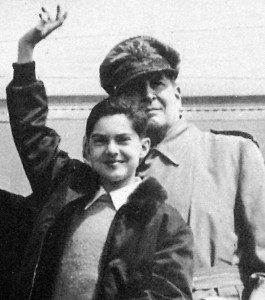 Build me a son, O Lord, who will be strong enough to know when he is weak, and brave enough to face himself when he is afraid; one who will be proud and unbending in honest defeat, and humble and gentle in victory.
Build me a son whose wishbone will not be where his backbone should be; a son who will know Thee and that to know himself is the foundation stone of knowledge. Lead him, I pray, not in the path of ease and comfort, but under the stress and spur of difficulties and challenge. Here let him learn to stand up in the storm; here let him learn compassion for those who fail.
Build me a son whose heart will be clean, whose goal will be high; a son who will master himself before he seeks to master other men; one who will learn to laugh, yet never forget how to weep; one who will reach into the future, yet never forget the past.
And after all these things are his, add, I pray, enough of a sense of humor, so that he may always be serious, yet never take himself too seriously. Give him humility, so that he may always remember the simplicity of greatness, the open mind of true wisdom, the meekness of true strength.
Then I, his father, will dare to whisper, "I have not lived in vain." -General Douglas MacArthur
Two things I've learned from my noble fathers:
Men must know first the way of their own nobility before it can be taught to another.

You never know when, where or why someone may claim you as father.
Just a thought…
Pat
Copyright © 2018 Patrick J. Moriarty. All Rights Reserved.
Would you like to submit a post to Just A Thought?  To learn more, please click here.