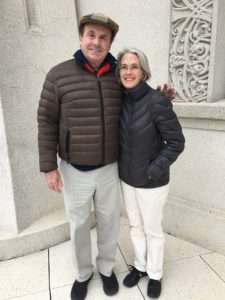 Pat and Marsha at the Baha'i Temple in Wilmette, north of Chicago.
Later this month we will leave Chicago to resettle in the Pacific Northwest.
We've become grandparents.

We want to be closer to family.

We are stepping into a new adventure.
We are excited about the potential that lies ahead, and for the opportunity to start a new chapter together.  But the truth is, this move is also hard for us both.  We love Chicago.
Marsha first landed here in August of 1964, and Pat in February, 1971.  This is Marsha's third stint in this city, and Pat's second.  We both have traveled the world but throughout our adult lives, Chicago is the place that has anchored us to the planet.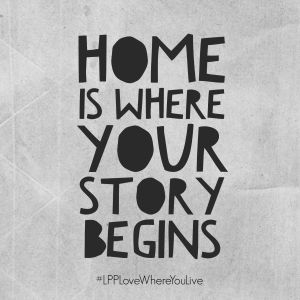 For Pat, so much of what you see as Pat Moriarty has been forged in the gritty environment of the Windy City.  And though he's never NOT been first and foremost a Northwesterner, his personality, his sensibilities and his work habits are all …….. Chicago.
Chicago is where we each found our life's work, built our marriage, raised our son and learned the great lessons.  There is an old saying about Chicago: "If you learn to love Chicago, over time, if you're patient, Chicago will love you back."
Wow and How!
Chicago took a wild-eyed, smart-ass kid from Seattle and made him a Midwestern Man.  Pat could not have found a more perfect place to grow up.  Marsha, who has always felt sort of un-rooted in this world, settled in and found home here.
Chicago's indomitable spirit was born in the slaughterhouses of the stockyards and in more than a century of waiting for the Cubs to win the World Series.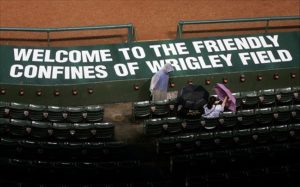 The city has a rough-and-tumble reputation dating at least back to the gangster days of Al Capone.  But it's also beautiful.  The consistent response from friends who have visited Chicago for the first time over the years has been, "I didn't realize it was so beautiful!"  One of the silver linings of the Great Chicago Fire that destroyed most of the city in 1871 was that its newly blank canvas became a magnet for architects from around the world, establishing Chicago as one of the great cities for modern architecture.  The downtown skyline is breathtaking.  The public parks, from tiny plots to vast, many-acred wonders, are everywhere.  Early city leaders had the foresight to preserve miles and miles of waterfront along Lake Michigan as public land, forming a series of parks that flow seamlessly from one to the next.  A place for cyclists, runners, swimmers, barbeques, soccer games, driving ranges, and dogs, we've often thought of it as "the city's back yard."   We will miss this.
Chicago's beauty extends to its neighborhoods, many of which were built by immigrant craftsmen in the late 19th and early 20th centuries.  We are constantly amazed by the brick, stone, and terracotta details that grace even the most humble of buildings.  On our many walks through our own neighborhood, we have taken pleasure in the stately trees, the first buds of spring, the prairie grasses, the riot of summer flowers, the icy beauty of the snow-covered streets, the variously calm and stormy waters of our beloved Lake Michigan.  We will miss all these.
And the people.  Carl Sandburg penned the phrase "City of the broad shoulders," in his poem about Chicago, a reference to its hard-working people.  The description fits.  There is strength and toughness here.  Wave after wave of immigration and migration over many decades have colored the city with languages, music, art, food, traditions, religions, all of which have made it strong and resilient.  Certainly, there is also pain, and prejudice, and corruption, and segregation, and injustice, and lots of room for improvement.  But goodness abounds, and we have formed bonds with friends, neighbors, colleagues, clients, work associates, healers of many stripes, shopkeepers, accountants, restaurant owners, and hairdressers.  We will miss you all.
We are each authors of our own books, the chapters of which tell the stories of our lives.  Our middle chapters were written in Chicago.  Now we head to the Northwest to write our final chapter.  Marsha will practice as a therapist and Pat will continue his work with colleges and universities.  We will embrace an entirely different kind of beauty, form and deepen bonds with family and new friends, welcome the rain, hike the mountains, and open ourselves to new adventures and possibilities.
And as we leave, we say thank you, Chicago.  We will always love you!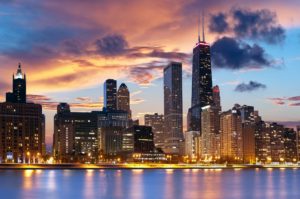 Just a Thought…
Pat and Marsha
Copyright © 2017 Patrick J. Moriarty and Marsha Hahn. All Rights Reserved.
Would you like to submit a post to Just A Thought?  To learn more, please click here.